Ingo Leindecker and Thomas Diesenreiter introducing the Austrian open media platform CBA
The CBA, the Cultural Broadcasting Archive, is an open media platform founded in 1999 by Radio FRO. Later the project was taken over by VFRÖ, the Association of Austrias free radio stations, as a joint effort to claim their space in the digital sphere and provide an effective tool for collaboration and sharing of media content.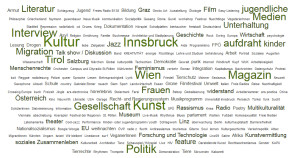 The CBA pursues similar goals as its founders: open access, participation, common public interest, non-commerciality, transparency, self-organization, local and regional development and independence. Furthermore the project follows ethical principals in the pursuit of a self-determined, solidary and emancipatory society.
Today, fifteen years after its start, 25 radio stations with 800 user accounts upload parts of their programs onto the CBA, mostly audio content with text descriptions and semantic categorization. 43.000 audio files with a total length of 32.000 hours tell a diverse story of a societies successes and struggles often overlooked by mainstream media. With a steady and exponentially growing listeners and user base, the CBA is becoming a more and more important online platform for the active civil society in Austria. From the beginning, all the content on the CBA was available for free and it was one of the first platforms to adopt the Creative Commons license on a wide base. Therefore most of the content is available to remix and reuse, for example by other radio stations or for artistic usage. Another important role plays the idea, that information not only needs to be open, but needs an open environment as well. Due to that, the CBA uses only open source software, releases its own source code under a free license and is hosted by a free, independent and local community hoster.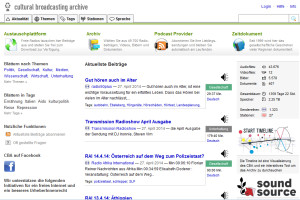 Due to its pioneering role, the project team behind the CBA often had to ask questions and hunt for answers about the challenges of a changing media landscape due to the success of the internet. Over the years, many scientific and legal papers had to be written and many events and conferences were organized to discuss urgent political, legal and technical questions. Even nowadays, although the internet is not a new phenomenon but the now leading technical medium, many problems especially in the fields of copyright are still unsolved.