In the second German speaking CAPTCHA radio show Helen Hahmann talkes with Georg Wellbrock about community media archiving challenges and Olli Löwe introduces an example from another media sector – by Georg Wellbrock
After focusing on special aspects of archiving for community media we can hear about the archiving methods of the German public broadcasting services, especially about the archiving structures of Bayrischer Rundfunk.
In dieser Sendung gibt es den zweiten Teil eines Gesprächs mit Helen Hahmann zu hören, der Projektkoordinatorin von CAPTCHA. Gesprochen wird sowohl über die Besonderheiten eines möglichen zukünftigem Archivs als auch die Schwierigkeiten derzeitiger Methoden. Dabei beginnen die Gesprächspartner leicht zu philosophieren und begeben sich auf die Suche nach einem Bündel an Fragen.
Der zweite Teil der Sendung ist ein Einblick in die Archivmethoden öffentlich-rechtlicher Rundfunkarchive. Zu Gast war Oli Löwe, der von seinen Erfahrungen beim Bayerischen Rundfunk berichtete. Im Gespräch danach berichtete er von einer möglichen Entwicklungswege von Archiven. Neben einer virtuellen Bibliothek etwa für *.pdf Dateien sprach Oli über einige anderen spannenden Bereiche des Archivwesens, etwa auto-mining.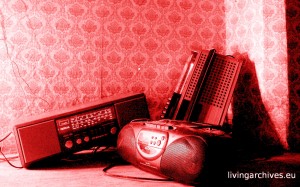 All the music played on the show is published under Creative Commons license (August 2014):
Steal 4 Ram – Crash
Sphere – Deleted
Misstrabant – Fabrik; Bicocca; Delete
A Ninja Slob Drew Me – Cut; Student Gene Pool
Macaco Mao – 2Lcohen expensive; 4delete delete; Wired
Torley on Piano – Brilliant ideas
Delenda – Voices; Answers without words
Dead Channel – Delete
Tempus Fugit – Cut paste and delete poetry
Nocom Electro – Hic
download